Is going to your local church simply a Sunday obligation your family fulfills every week? Are you looking to get more out of your spiritual life? At Narrate Church, we offer community involvement and service commitments as part of our exploration of spiritual life.
We Call This Scattering
"Scattering" is what happens when we're not in church worshiping together. That's what we do on Sundays. During the other days of the week, we strive to develop relationships and provide help within our community for those who need it. We don't want to simply be a local church you show up to once a week for a sermon and psalm. We offer our membership the opportunity to do more.
Scattering can be anything from offering a helping hand to someone juggling their kids and their groceries to service commitments at local non-profit organizations to mission trips, youth leadership and more. Scattering refers to the concept of Christ's teachings reaching far beyond our doors. It can be virtually anything that involves helping in your community. Whether you're into volunteering, teaching, mentoring, learning, caring, leading, or just simply helping, we're the local church for you. We are constantly working to evolve in the teachings of Christ to show tolerance, acceptance and love for everyone in our community, not just our membership.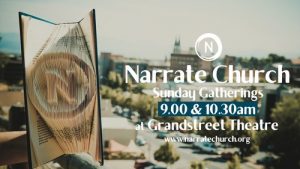 Scattering Events
Additionally, we host four local church community scattering events annually. Our 
November 16 scattering is going to be especially beautiful, as it is our third round of what we call "DInner for 8!" This gives people who have identified as willing to host a dinner in their home the opportunity to connect with others in the church and throughout the community.
Anyone in the community can sign up to participate along with another person of your c
hoice—your spouse or partner, sibling, parent, friend, whoever! You can also just sign up for yourself. We'll assign you to a host's home and ask you to bring a side, drink or dessert to share. Up to eight people will enjoy food and fellowship at their host's home and get to know each other and their community better. As your local church in Helena, we love this event!
Focus On: Families With Heart
Narrate church serves communities beyond our own as well. Families With Heart is dedicated to improving the lives of people with disabilities in the country of Ecuador. Without the same resources that we have access to in the US, Ecuadorans suffer considerably from the strictures of disability and special needs. 
Sponsorship opportunities are always available; you can sponsor a special-needs or disabled child or family for $30 per month for a minimum three-month commitment. The funding provided through sponsorship goes to various required therapies (occupational, physical, or speech therapy), medication, or any of their unmet basic needs. Sponsors receive updates every six months on the progress of those they are sponsoring.
We think this is a great way for a local church to get involved in the global community. You can check out the video from our 2016 trip to Ecuador here to see how extraordinary the impact has been!
Your Local Church
Narrate Church seeks to serve the greater community of Helena and beyond. Our services extend past traditional church services to focus on our local and global communities, so that our work may benefit areas beyond our membership. We seek to help anyone regardless of their creed, religion, marital or economic status, or sexual orientation. We also offer specialized Christian counseling and therapy services, and we strive to put things like money and relationships into perspective in a very real way. Please contact us today for more information or to schedule an appointment with us. We would love to see how we can best serve your needs.