Helena Ales for Trails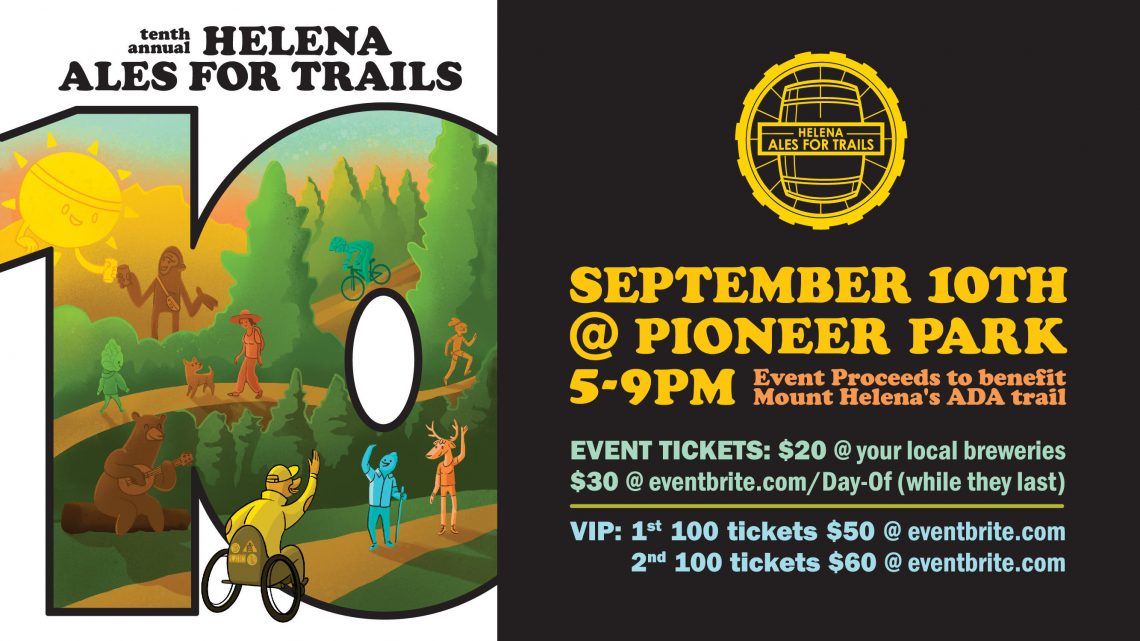 Why Helena Ales for Trails?
Helena Ales for Trails is about contributing to the Helena community by raising funds for the Helena trail system. All proceeds from this year's event will go towards the construction of the new ADA trail on Mount Helena. The City of Helena Parks and Recreation is leading the charge on the trailhead construction.
The event itself is led by a consortium of community leaders from a variety of sectors. We're proud to partner with local businesses, city and county government, and private citizens to host Helena Ales for Trails. In addition to the myriad of people involved in the planning, Helena Ales for Trails utilizes over 100 volunteers on the day of the event.
Keeping it Downtown: 
The 10th Annual Helena Ales for Trails will happen in Pioneer Park, located next to the Lewis & Clark Library at the far southern end of the walking mall.
Date & Time:
This year's event is scheduled for Friday, September 10th from 3.30pm – 9pm. Please note that 3.30pm – 5.00pm is reserved for the VIP pre-event. The main event experience is from 5.00pm – 9.00pm.
Want to serve the community with us?
We're excited for your interest in actively becoming a part of the Helena Community by giving your time and energy at Ales. Because Ales needs over 100 individuals serving throughout the day, there are many ways in which volunteers can get involved. Ales would not be the great experience and amazing festival it has become without dedicated and hard-working volunteers helping to make it happen every step of the way.
Specific Opportunities 
Below are brief descriptions of the serving opportunities.
Event Entrances
Shifts: 2.30pm-5.15pm, 5.00pm-7.15pm, and 7pm-9pm
North or South Gate
This role involves being stationed at the entrance in order to ensure that every attendee's ID is checked. Once a person is approved, they receive a stamp and bracelet on their right hand, after which they will be able to enter the event. Remind people exiting the event that they will need to have their glass emptied (required by law) before exiting. Kindly remind them they will need their wristband, glass, and visible stamp to re-enter the event.
Ticket Table
Volunteers at the Ticket Table will assist in receiving pre-purchased tickets (paper tickets and Eventbrite), sell tickets, handle credit card payments via Square, handle cash, and help attendees obtain their event glass and beer tokens.
Beer Pourers
Shifts: 3.00pm-5.15pm, 5.00pm-7.15pm, and 7pm-9pm
This role involves serving beer at one of the brewery vendors at the event. This role requires that each pourer has a clear understanding of how to pour beer, to pour beer only in an event glass, and to ensure that the attendee receiving beer has a stamp and wristband on the right wrist. Most importantly, we value having an experience that is safe and intentional with our care towards attendees. This requires pourers be responsible with their serving, recognize when to not serve beer to a person who has clearly had too much and report such an attendee to our lead pourers on hand. Each pourer is required to attend a pourer training at Blackfoot River Brewery on a date TBD.
Merchandise Table
Shifts: 3.00pm – 5.15pm, 5.00pm – 7.15pm, and 7-9pm
People at this table will manage payments for various merchandise items via cash handling and credit cards with Square.  Merchandise items include additional beer tokens, art, t-shirts, etc.
Event Setup 
Shifts: 9:00am – 2:00pm
There will be many tasks required to get an outdoor event set up in Pioneer Park. These tasks involve manual labor such tent set up (strong backs required), unloading event equipment, setting up fencing along park perimeter, setting out barrels, hanging signage, stage set up, assisting breweries, etc.
Event Teardown
Shifts: 9:00pm-11:00pm
Like setup, teardown involves multiple tasks which will result in our leaving Pioneer Park entirely clean after the event. This includes disassembling event equipment, breaking down tents, cleaning waste, loading trailers, etc.
Helpful things for you to know about Ales for Trails 2021
Volunteers assisting at Ales for Trails for at least a 2 hour shift, receive a free main event ticket and volunteer t-shirt to be worn while you are serving.
When you sign up, it would be helpful for us to have the following information

Your name, email, and phone number
Serving time preference
Top 3 choices of serving roles

Serving roles are filled according to a first come, first serve basis.
Everyone is welcomed to enjoy the Main Event before and after their serving role.
Everyone must be 21 or older to volunteer.
We look forward to serving Helena with you!
For more information find Helena Ales for Trails on Facebook or email Hannah at hannah@narratechurch.org.
MUST BE 21 YEARS OR OLDER TO PARTICIPATE. PROOF OF ID REQUIRED.