Kids
Narrate Nursery serves families with children who are ages six weeks to three years during our Sunday gatherings. We are located downstairs in Grandstreet Theatre. Gay and our wonderful team of volunteers care for your little ones while you enjoy attending church gatherings upstairs.
In Narrate Kids (NK), we welcome school-aged children from preschool to 5th grade at 326 Fuller during church gatherings. At NK children are discovering and learning to navigate a relationship with God, while making lasting friendships and serving others. Our Narrate Kids team is dedicated to creating a relational experience for kids by engaging with them in small groups, games and experiments. This is a place where kids come to be open, honest, and unapologetically themselves every Sunday while you attend church gatherings.
Safety Screening
Check-In (Preschool – 5th grade) 326 Fuller Avenue
Check-Out (Preschool – 5th grade) 328 Fuller Avenue (Grandstreet Studio)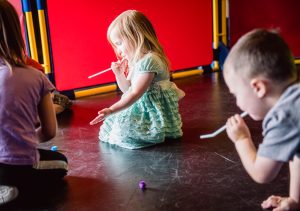 We are committed to providing a safe and secure experience for Narrate Kids. Parents must present a matching barcode tag for their child(ren) upon pickup. Each volunteer has gone through a background check process and training to ensure a safe, nurturing environment.
---
QUESTIONS
For Narrate Nursery, please contact gay@narratechurch.org. For Narrate Kids, please contact lexsey@narratechurch.org